Custom Services
Windows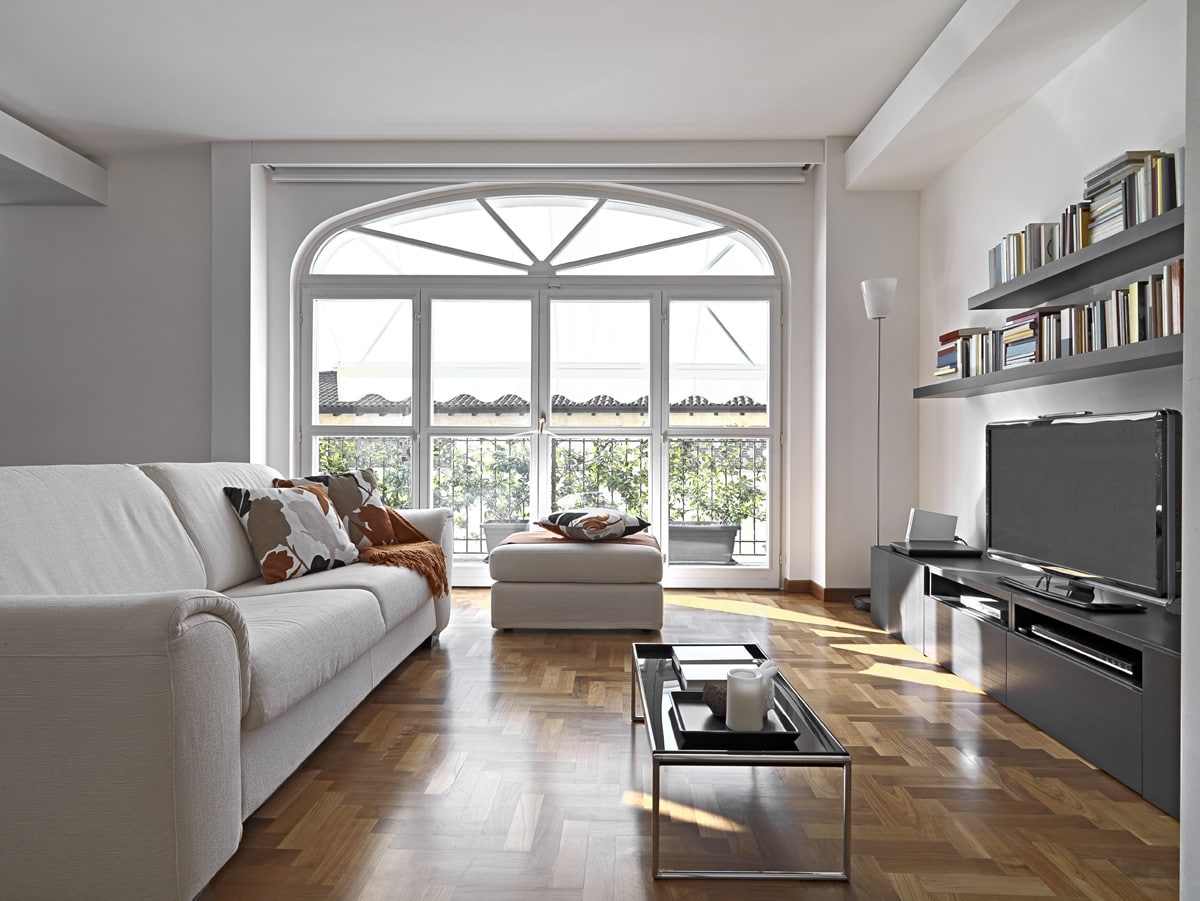 Aesthetics are important, and quality, value and durability are all equally as important.
WeatherLok
WeatherLok New Construction Vinyl Windows are crafted to deliver everything home buyers want with features, benefits and performance that won't wear out and cause you concern. WeatherLok Windows offer incredible performance, superior durability, excellent energy efficiency, and low maintenance. We offer a variety of options and styles, so you can find the window to fit your home's needs.
With WeatherLok, Options Abound
Whether it's decorative accents, grids, or hardware, WeatherLok has the options you want to make your house the home you want it to be.
Color Options
All WeatherLok Windows and Doors come standard in white, almond, interior and exterior laminates and 8 painted exterior colors* are also available on the Series 3900 and patio doors.

Grid Options
You can accent the beauty of your WeatherLok windows and doors with any of the following custom enhancement options:
Optional 3/4″ or 5/8″ wide decorative flat grids or 5/8″ or 1″ wide contoured grids are available that fit between the glass panels and never require cleaning or maintenance.
You can also specify 1 1/8″ Simulated Divided Lite grids (SDL) for the replacement Series 3900 Double Hung and Slider and Series 700/705 Casement/Awning windows, as well as the new construction Series 450/455/460 Double Hung, Series 451 Slider, Series 750/755 Casement/Awning window, and 312/332 Patio Doors. These grids are applied to both the interior and exterior of the glass for a more traditional appearance.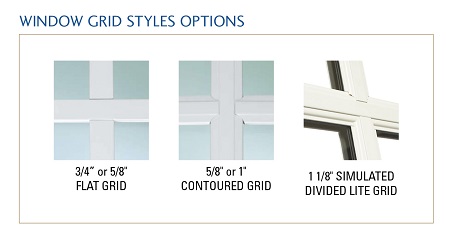 Multiple Glass Options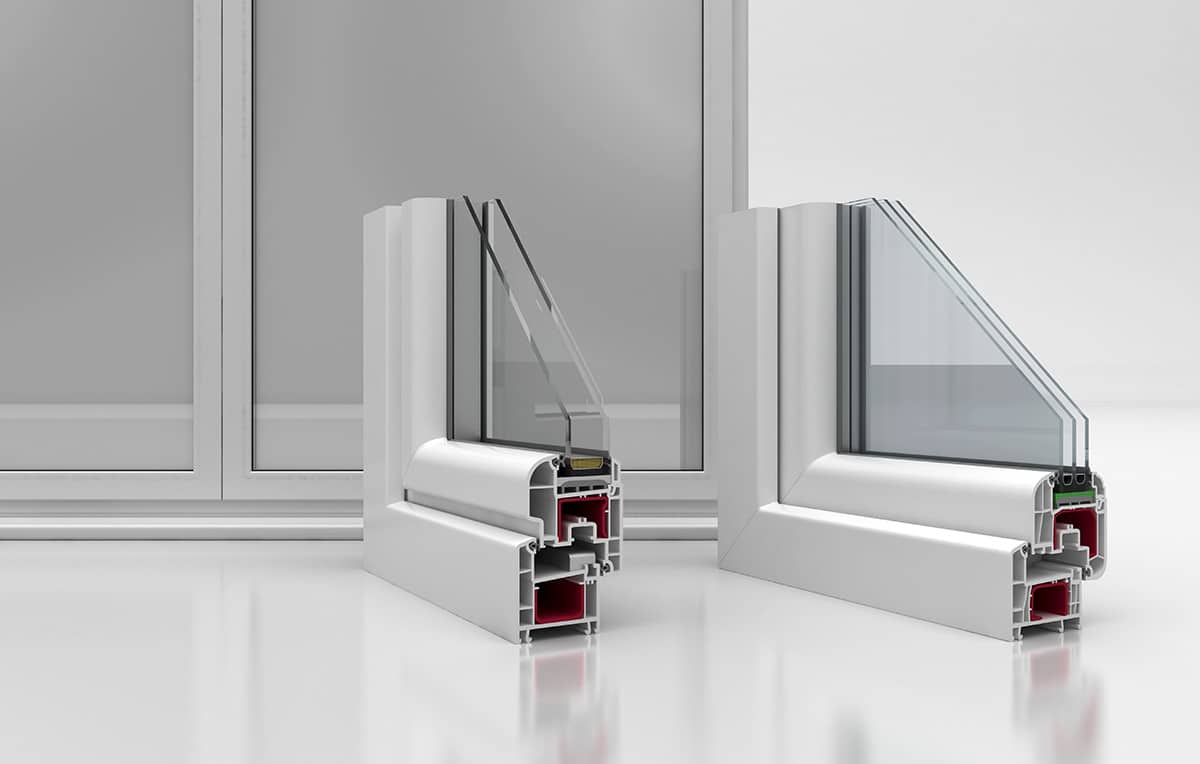 Low-E Coated Glass
Low-E glass is coated with a microscopic layer of silver that reflects radiant solar energy while permitting visible light to pass through the glass, providing more comfort and lower energy costs.
Standard Low-E Glass with Argon Gas
Argon gas works like an insulating blanket between two panes of glass to further improve thermal efficiency and decrease outside sound levels.
Ultra Low-E Glass with Argon Gas
Choose our ultimate glass package for optimal energy efficiency and maximum cost savings. Ultra Low-E glass offers three invisible layers of silver coating in addition to the superior thermal performance of argon gas.
Triple-Pane, R-5 Compliant Glass
(available on Series 3900 only)
Triple-pane, R-5 compliant glass with Super Spacer® nXt™ sealant system provides industry-leading thermal resistance, noise reduction and protection from the sun. The Series 3900 offers this option with both Low-E glass with argon gas or Ultra Low-E glass with argon gas, for the ultimate in insulation.
INSULKOR™ TECHNOLOGY
InsulKor technology is a system of sash and frame enhancements that dramatically improves the performance of the Series 3900 double hung window.
Advanced Series 3900 Features
Optional InsulKor multi-cavity foam-filled frame injections
Super Spacer® nXt™ sealant system (standard with Series 3900 triple-pane glass options, and optional on Series 3900 double-pane windows)
Triple-pane, R-5 compliant glass
WeatherLok…Made For Living. Guaranteed For Life
WeatherLok replacement windows comes standard with a Limited Lifetime Warranty on the vinyl and all working parts, including screens, as well as an OPTIONAL LIFETIME WARRANTY AGAINST GLASS BREAKAGE (standard on series 3900).
Every New Construction window is backed by a limited lifetime warranty on the vinyl and all working parts, with 25-year coverage against glass defects and seal failure.
Throughout the warranty period, you can easily obtain replacement parts because each unit is individually registered, with a warranty identification number prominently displayed on a special sticker for your convenience.
---
Doors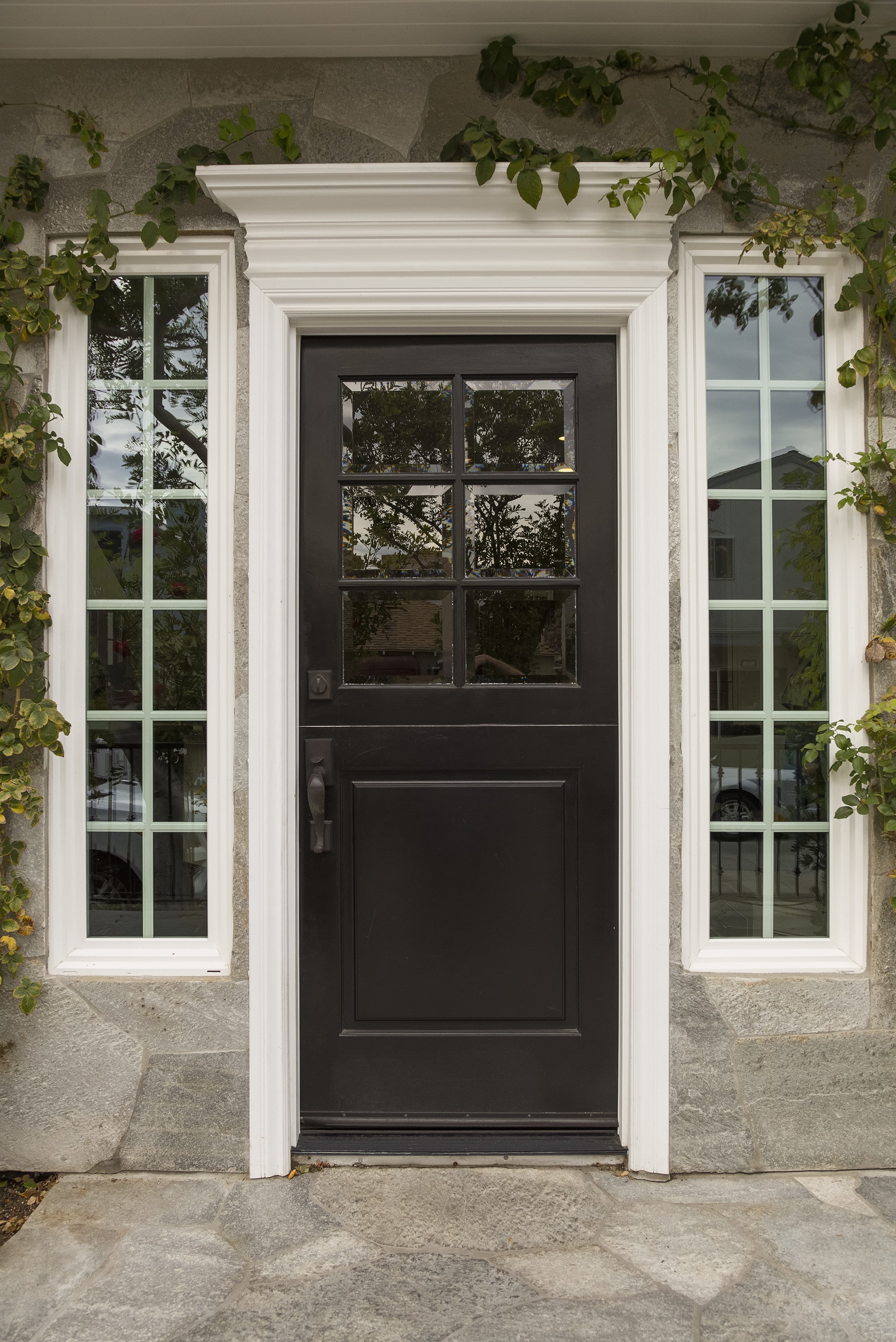 Jeld Wen
One secret of the initial success of JELD-WEN was the company's resourcefulness and deliberate decision to use for a high-value purpose every last bit of raw resource that entered its doors, a philosophy that still stands true today.
Popular panel designs to match your home style. Glass inserts include decorative and energy efficient. Half-lite options include pet panel.
Energy Efficient
Our optional high-performance Low-E insulating glass lowers energy costs, helps homes stay cooler in the summer and warmer in the winter, reducing the fading of interior furnishings and condensation. It also delivers greater visible light transmittance than tinted glass.
Optional clear glass consists of two panes of glass, sealed with an airspace and the perimeter of the unit is sealed. This option offers maximum visible light transmittance and superb energy efficiency in most climates.
With Low-E glass, ENERGY STAR® qualified versions of this product are likely available. This means they meet or exceed the minimum energy efficiency criteria for your climate region. For more information, ask your dealer how to order JELD-WEN ENERGY STAR qualified products specific to your area.
Simulated Divided Lights
Add simulated divided lights (SDL) to your doors for an authentic look. Simulated divided lights feature grilles that are permanently attached to both the interior and exterior glass. They are available with Low-E, Double Glue Chip, or Rain Glass in 6-Light and 3-Light designs. Simulated divided lights are only available in the Craftsman style door.
Sustainability at JELD-WEN
At JELD-WEN, sustainability is nothing new. With origins rooted in wood product manufacturing, our legacy has been to make windows, doors and components in a manner consistent with efficient use of what nature provides. In effect, we've always strived to make stiles and sash, not sawdust.
To us, minimizing waste has always made good ecological and business sense. Our mission is to develop high performance, high-value products that satisfy our customers' needs, while also caring for our communities by seeking ways to reduce our impact on the environment. We also realize that there is still work to be done. Sustainability is a journey, and our on-going efforts will remain directed toward continual improvement of our products, processes and culture.
We do this not because it's popular.
We do it because it's the right thing to do.
Architectural Construction
JELD-WEN uses state-of-the-art technology to create the Architectural Door collection. The proprietary die technology used in manufacturing allows JELD-WEN to produce an exact replica of a wood door. The wood impression is then transferred to fiberglass – Mahogany and Fir woodgrains have never looked like this before. Raised mouldings and LVL stiles with hardwood edgebands complete the genuine appearance of all doors within the Architectural Collection.
Realistic woodgrain fiberglass facing
Square edge design
4" LVL stiles with hardwood edge band
Composite top and bottom rails
Innovative BASF Neopor® core
Raised moulding designs available
---
Roofing

GAF shingles
Timberline HD® Lifetime High Definition®Shingles
Great Value…
Architecturally stylish but practically priced—with a Lifetime ltd. warranty.
Dimensional Look…
Features GAF's "High Definition" color blends and enhanced shadow effect for a genuine wood-shake look.
Safer…
Class A fire rating from Underwriters Laboratories, the highest rating possible.
High Performance…
Designed with Advanced Protection® technology, which minimizes the use of natural resources while providing superior protection for your home.
StainGuard® Protection…
Helps ensure the beauty of your roof against unsightly blue-green algae (See Details)
Stays In Place…
Dura Grip™ Adhesive seals each shingle tightly and reduces the risk of shingle blow-off. Shingles warranted to withstand winds up to 130 mph.
Peace of Mind…
Lifetime ltd. transferable warranty with Smart Choice®Protection (non-prorated material and installation labor coverage) for the first ten years.
Perfect Finishing Touch…
Use Timbertex® Premium Ridge Cap Shingles (in the West, use Ridglass® Premium Ridge Cap Shingles)
---
Siding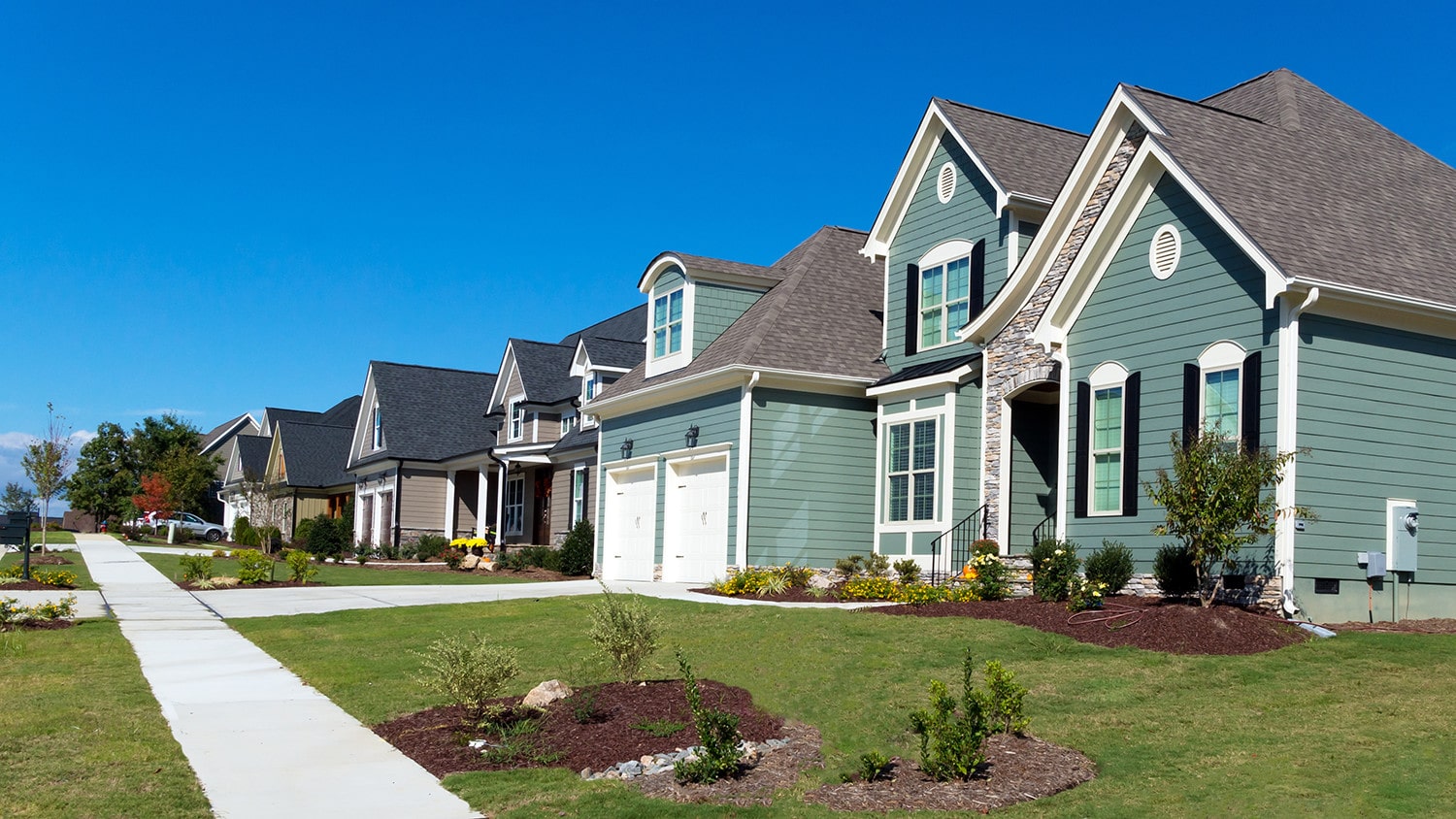 CertainTeed
CertainTeed's vinyl siding collection is America's most popular siding. It offers an exceptional selection of affordable styles with outstanding performance. With 11 product lines and a variety of woodgrain and smooth finishes, CertainTeed give you the freedom to express yoursefl with the exact siding to suit your style and budget.
---
Gutters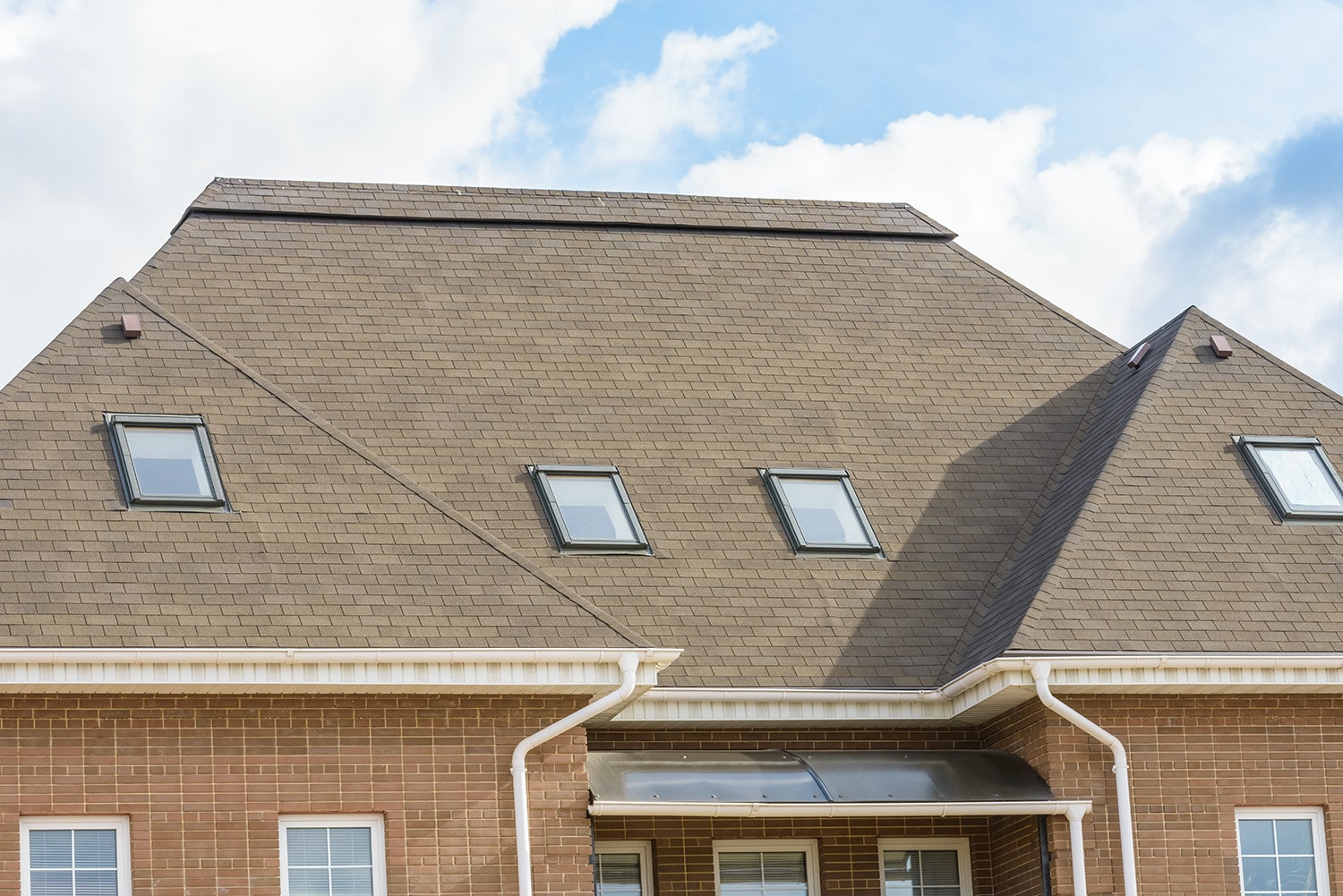 Primetime Energy Services installs custom fit seamless gutters and downspouts. When you request gutter replacement, we will custom make your new system on-site to ensure they exactly fit the dimensions of your home. Let our professional installers resolve your issues by designing a seamless gutter system for your home.