Improving indoor air quality can improve your overall health
Tuesday, January 14th, 2020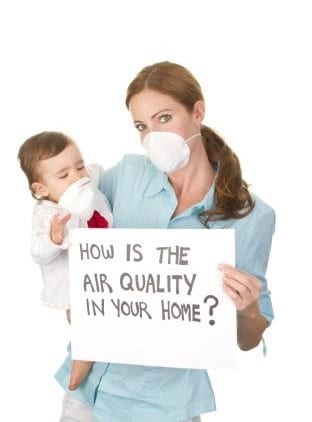 Have you ever stopped to think about the quality of the air you're breathing? While air quality is usually out of your control when you're outdoors or in a place of business, you can most definitely do something about the air you breathe in your home.
There are many things that can contribute to poor air quality, especially in heavily insulated homes that can trap air inside. Following are just a few of the many causes:
Inadequate fresh air supply and/or poor ventilation system maintenance.
Pollutants given off by building or furnishing materials.
Pollutants from standard household items such as cleaning products, appliances, pesticides, and off-gases from new materials.
Microorganisms or other biological contaminants.
Contaminants brought into the building from outside, such as exhausts from sanitary stacks, boiler stacks, natural gas vents or flues.
While energy efficient, today's tight, well-insulated or spray foam insulated homes can trap unwanted particles like mold spores or odors inside. These particles are then distributed throughout the home by your furnace or air conditioning system. Therefore, air filtration is extremely important if your home has been insulated.
Fortunately, there are cost-effective steps a homeowner can take to improve the quality of the air inside their home. Here are two options:
Honeywell UV Air Purifiers
The Honeywell UV Air Purifier is shown to kill up to 99 percent of mold spores and odors built up on air conditioning coils and in duct work. This process, which uses ultraviolet light to kill bacteria, is highly recommended for homes with pets, air conditioners and high humidity. Complete installation of this low-cost system will typically range from $700 to $900 and can be added to any current furnace system.
Honeywell Whole House Media Air Cleaner
Featuring replaceable filtration, this Honeywell system is up to 85 percent more efficient at capturing microscopic dirt particles such as dust, smoke and pet dander. Requiring minimal maintenance, this setup allows for worry-free use for a period of eight to 12 months, depending on the current air quality of the home. The cost for this unit will run from $500 to $800, fully installed.
"Indoor air quality is extremely important, especially in a busy home filled with family," said Jim Stroehlein, co-owner of Prime Time Energy Services located at 67 Sheldon Ave., Depew. "You wouldn't drink contaminated water or eat tainted food, so why breathe polluted air when there is a simple and inexpensive solution?"
For more information on the importance of clean indoor air and affordable air purification systems, please contact Prime Time Energy Services at 685-4331 or [email protected]